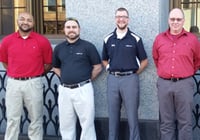 In 2015, more than 21.2 million men and women were veterans, accounting for about 9 percent of the civilian non-institutional population age 18 and over, according to the Bureau of Labor Statistics.

At Netgain, we're honored that nearly 10 percent of our team members are military veterans. These honorable and courageous men possess unique skills that allow them to serve our clients with a deeper understanding of purpose, duty and pride.

Here are five ways our veterans say they use their military-earned skills to better serve our clients:

1. We have a sense of duty and see the bigger picture.
"Our duty to our clients through the services we provide is paramount. Both from a reliability and trust factor, and from the life-saving nature that is the healthcare industry we serve," said Philip Henneman, a US Navy veteran now serving as a System Operations Team Lead at Netgain.

2. We get work ethic.
"In the armed forces, if you're five minutes early, you're late," says Greg Brown, a Netgain Support Team Lead. "This mentality to show up early, prepared and ready to work provides the basis for professionalism and a client-first attitude that we strive for at Netgain."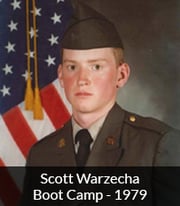 3. Our skills go far beyond University teachings.
"Veterans are well rounded and possess real-world skills that aren't taught at Universities," said Scott Warzecha, Netgain's founder who also served in the US Army Reserves. Key interpersonal skills that he often sees military veterans possess include empathy, insight into behavior and intercultural relations. "These personal skills allow team members to relate to each other and to our clients. Rather than a tech on the other end of the line, we're able to serve as trusted advisors, based on this relationship."
4. We're experienced in crisis management – seriously.
During his deployment to Iraq in 2006, Greg had front-row training in crisis management. At Netgain, Greg says he's able to approach crisis situations in a calmer and more collected manner, which is a great asset for the Support Team that he leads. "It's more natural for me to remain calm and focus on the issue because of the training and experience I had in Iraq."
"We know our private cloud services are mission-critical to serving patients," Greg said. "So, when there are crisis issues that interfere with that patient care, we need to respond in a way that minimizes the impact on the patient and provides the best outcome for the client."
5. We rise and fall with our team.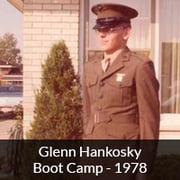 "The military is all about teamwork, and Netgain is very much the same in that sense," said Glenn Hankosky, a Netgain System Operations Team Lead and US Marine Corps veteran. "To provide our clients and their patients with an environment that is reliable, secure and available, we work as a team to coordinate our skills and initiatives with other team members. Nobody serves as an island – that's not how we accomplish the best result for the client."
Greg believes teamwork has a direct impact on key client-satisfaction metrics. "Our focus on teamwork at Netgain results in faster resolution times for the client, which leads to happier patients."
Military veterans provide value to the client experience above and beyond these five facets. Their formal and on-the-job training is invaluable when brought into the workplace.
We are humbled and grateful to have so many veterans working with our clients each day and providing a level of customer service that is unparalleled.