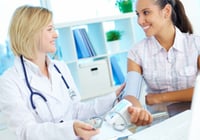 There are over 1,200 Federally Qualified Health Centers (FQHCs) in the United States. For years, FQHCs have been watching the rapid adoption of cloud computing within the private-practices and desired the same great benefits. Their needs are different than other healthcare organizations, but technology service providers are slow to provide solutions that meet those needs.
Neighborhood Healthcare, a California-based health center hosting eClinicalWorks, recently found out the hard way that partnering with a service provider that is experienced with FQHCs makes all the difference in cloud success and user satisfaction.

Having their eClinicalWorks EHR hosted in an earlier environment that didn't meet their specific needs, Neighborhood Healthcare deployed eClinicalWorks in a private cloud environment for their 11 clinics and 600 users. They're now experiencing the benefits promised of cloud computing.
Overview
After months of performance issues, service provider issues and an IT environment that couldn't accommodate change, Neighborhood Healthcare moved to a hosting provider that alleviated these and other IT pains.
Neighborhood Healthcare's eClinicalWorks EHR performance was suffering in the current hosting environment, impacting their provider's ability to treat patients. The infrastructure was not built to the EHR's minimum standards, resulting in performance degradation.
Neighborhood Healthcare often requested that their hosting provider make necessary updates to the environment to improve performance, but their service provider's size and lack of clinical IT expertise meant they couldn't accommodate the needed infrastructure changes.
After considering alternative options, Neighborhood Healthcare moved their eClinicalWorks EHR environment to Netgain's Private Cloud.
Challenges
Geographic Diversity
FQHCs are made up of many small clinic-type settings, often including in-home services. Understanding the impact of these remote, and often rural, locations is vital to cloud success.

Having multiple clinic locations affect many aspects of the cloud set-up like network configuration, remote access capabilities and bandwidth requirements.

For Neighborhood Healthcare specifically, their clinics are spread out across a 75-mile area in California and nearly every clinic's method of access was different. The Neighborhood Healthcare team worked with Netgain's Deployment Team to create custom solutions for each location that optimized performance and availability.
Reporting Requirements
To qualify as an FQHC, there's a copious amount of of often-customized reporting that must be done. The affect this reporting has on system performance is often overlooked by cloud providers.

Netgain and Neighborhood Healthcare thoroughly discussed when reporting typically gets done and how it affects the user experience during that time. Once Netgain understood the scope and extent of reporting, Netgain could provision Neighborhood Healthcare's resources appropriately to perform the reporting with minimal disruption to providers and users.
Customization Needs
EHRs have long targeted the independent or network practice, but not many EHRs even understand the customization needs of FQHCs. This can include custom workflows, detailed reporting or mobile-based services. In addition to the EHR, these customization needs affect the IT needs of the FQHC.

During the due diligence process, Netgain and Neighborhood Healthcare evaluated the many cloud options. Netgain reviewed benefits, pricing, performance implications, functionality and other elements that were important to Neighborhood Healthcare. In doing so, Netgain eliminated public cloud as an option, because it wouldn't allow for the customization of Neighborhood Healthcare's EHR tool that they needed to continue their FQHC status. Contrarily, the private cloud environment offered the customization, performance and availability requirements they desired at a price that was comparable to other solutions they'd evaluated.
Benefits
Since the transition, Neighborhood Healthcare has noticed several improvements in their environment. Among the benefits are:
Availability & Performance
The physicians and users at Neighborhood Healthcare have experienced improved performance and decreased congestion. "Since moving to Netgain, we've had zero instances of freezing and slowness reported, which is a major decrease from an almost daily occurrence. We have had very happy providers since our transition," said Marina Lomeli, IT Director at Neighborhood Healthcare.
Partnership & Expertise
Neighborhood Healthcare now has access to a team of IT specialists that support their hosted infrastructure and ongoing needs. When they call into Netgain's Support Team, they're routed to a specific team of support analysts that specialize in eClinicalWorks.
Flexibility & Scale
In their private cloud environment, Neighborhood Healthcare can make timely IT changes that enable them to grow in services, geography and patient-load. Their right-fitted technology infrastructure is now enabling their growth rather than hindering it.
There are so many success stories just like Neighborhood Healthcare where FQHC's have experienced better performance, greater security and the customization required to thrive as a growing organization.
Is your IT environment conducive to the rising demands of your users? Are your physicians happy with system speed and performance? Does your IT partner understand the unique IT needs that come with being an FQHC?